https://www.madisonseating.com/embody-chair-in-black-by-herman-miller.html
https://store.hermanmiller.com/home-office-chairs/embody-chair/100147448.html?lang=en_US
https://www.dwr.com/office-chairs/embody-chair/100137718.html?lang=en_US
Price
Store
Price
https://www.madisonseating.com/
$899.11
Include Free Shipping and No Tax
Design Within Reach
$1,595.00
Design Within Reach Outlet
$1,075.00
Include Free Shipping
Herman Miller

$1,595.00
$1,747.62 with Tax and Shipping
The Embody seat and back are a dynamic matrix of pixels that stimulates blood and oxygen flow by reducing seated pressure. All that oxygen helps you think better. The chair back adjusts instinctively to every move you make and keeps support of your lower back constant. Embody keeps you in a neutral, balanced posture as you work, so you stay relaxed and focused.
Designers: Bill Stumpf and Jeff Weber The first work chair designed specifically to create harmony between your body and your computer. More than just an ergonomic chair, Embody keeps you alert, keeps you aligned, keeps your blood and creative juices flowing.
The edge of the seat is flexible, taking pressure off of your thighs. The backing of the chair, a real attention grabber with it's beautiful and intricate design, is able to bend and lean with you, no matter what angle you're sitting at. Most chairs either go backward or forward; the Embody Chair can go backward and forward at the same time, not to mention sideways and torqued positions. It's meant to keep your back comfy, and users who sit in the Embody Chair for long periods of time report increased mood and productivity, as well as never having to get up to stretch their legs or move around to get their circulation going.
For Nonstop Wellness — Designed with the input of more than 30 physicians and PhDs in biomechanics, vision, physical therapy, and ergonomics, the Embody office chair is for those who take sitting seriously. Our research even proves that it increases blood circulation to improve oxygen flow and lower your heart rate.
The Embody work chair is the modern benchmark for pressure distribution, natural alignment, and healthy movement. Instead of locking you into the seat, this modern ergonomic office chair combines active and passive ergonomics to encourage effortless long-term sitting. Its signature spinal design lets you manually fine-tune the fit to your back while the matrix of pixels in the seat and back automatically conform to your micro-movements.
12-year warranty.
Pixelated Support conforms to your micro-movements and eliminates pressure buildup.
Narrow back promotes correct posture while allowing the freedom to move.
Breathable seat with four support layers.
Pneumatic seat lift and adjustable armrests.
PVC-free and made of 42% recycled materials.
Eco-Friendly Description: Manufactured at a 100% Renewable Electric Energy facility. Made of 42% recycled materials; 95% recyclable at end of useful life. Recyclability refers to the portion of materials used in a product that can be recycled after the product is no longer functional. BrandHerman MillerGeneral Dimensions
Box Dimensions
AssemblyComes fully assembledWarranty12-Year Warranty
From design to manufacturing, delivery to service, when you buy from Herman Miller, you can expect quality. We confidently back every Herman Miller product with a warranty that covers virtually everything – including electrical components, casters, pneumatic cylinders, tilts, and all moving mechanisms. We stand by every product, 100 percent.
Full Warranty DetailsLifestyle
Design Details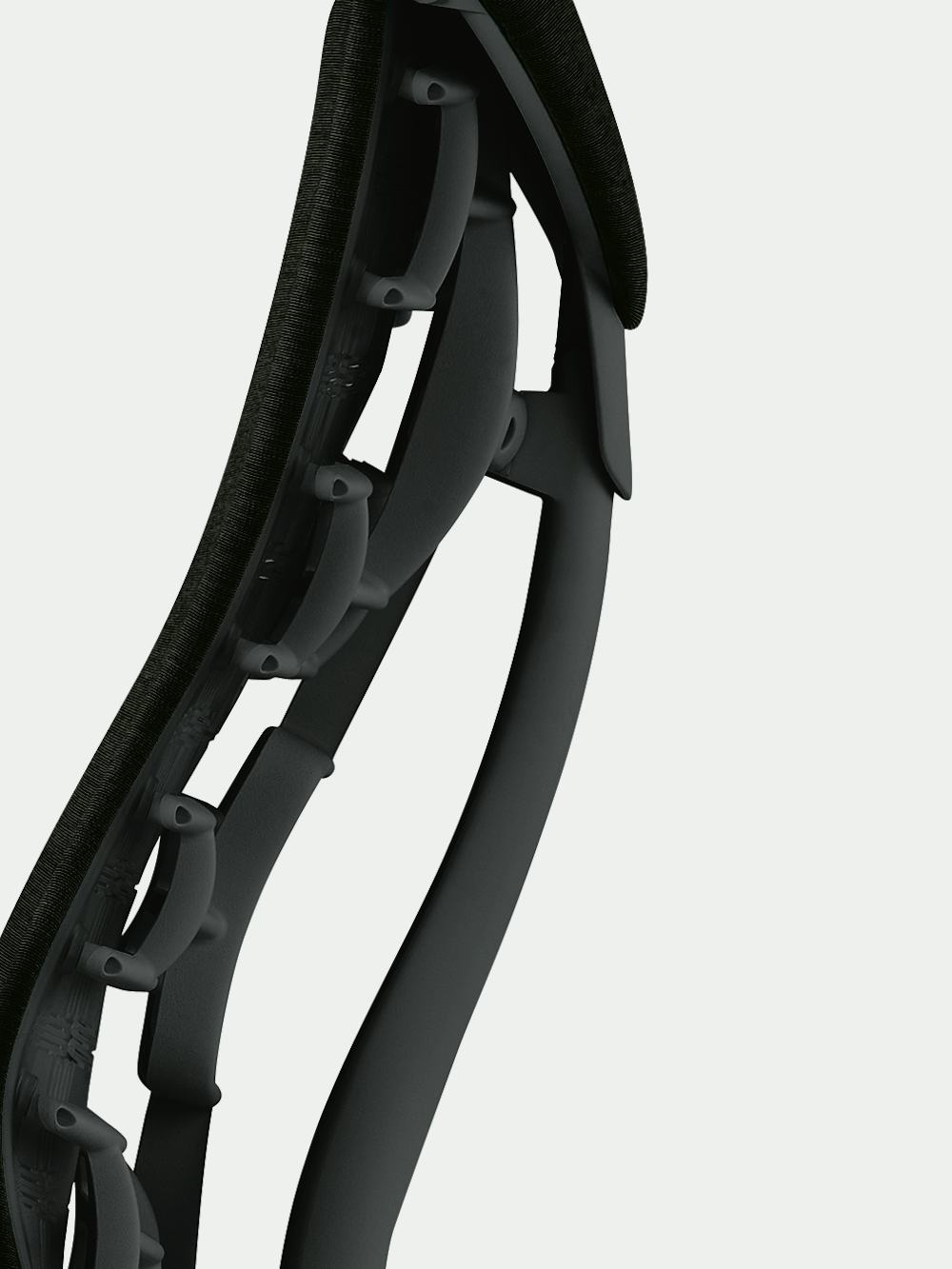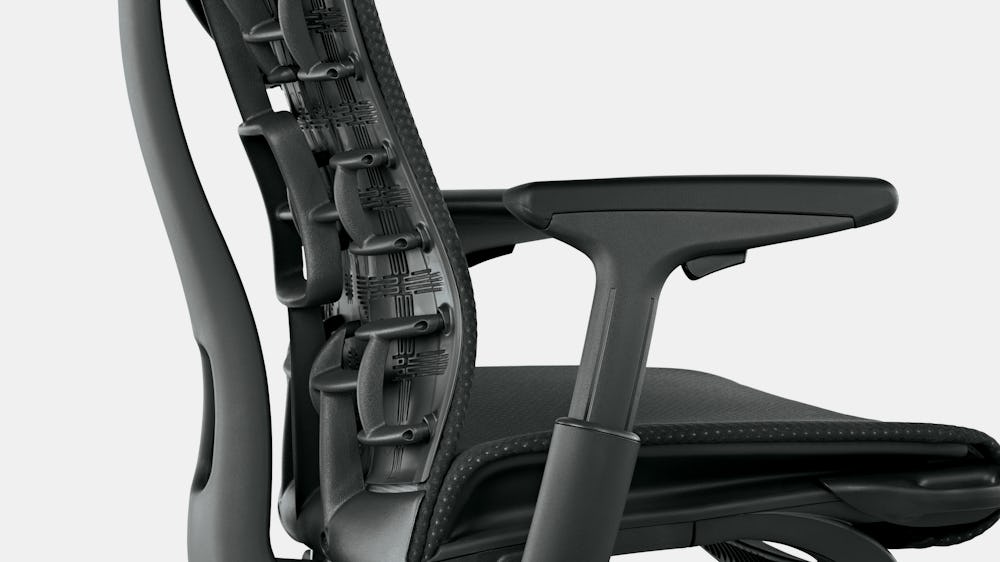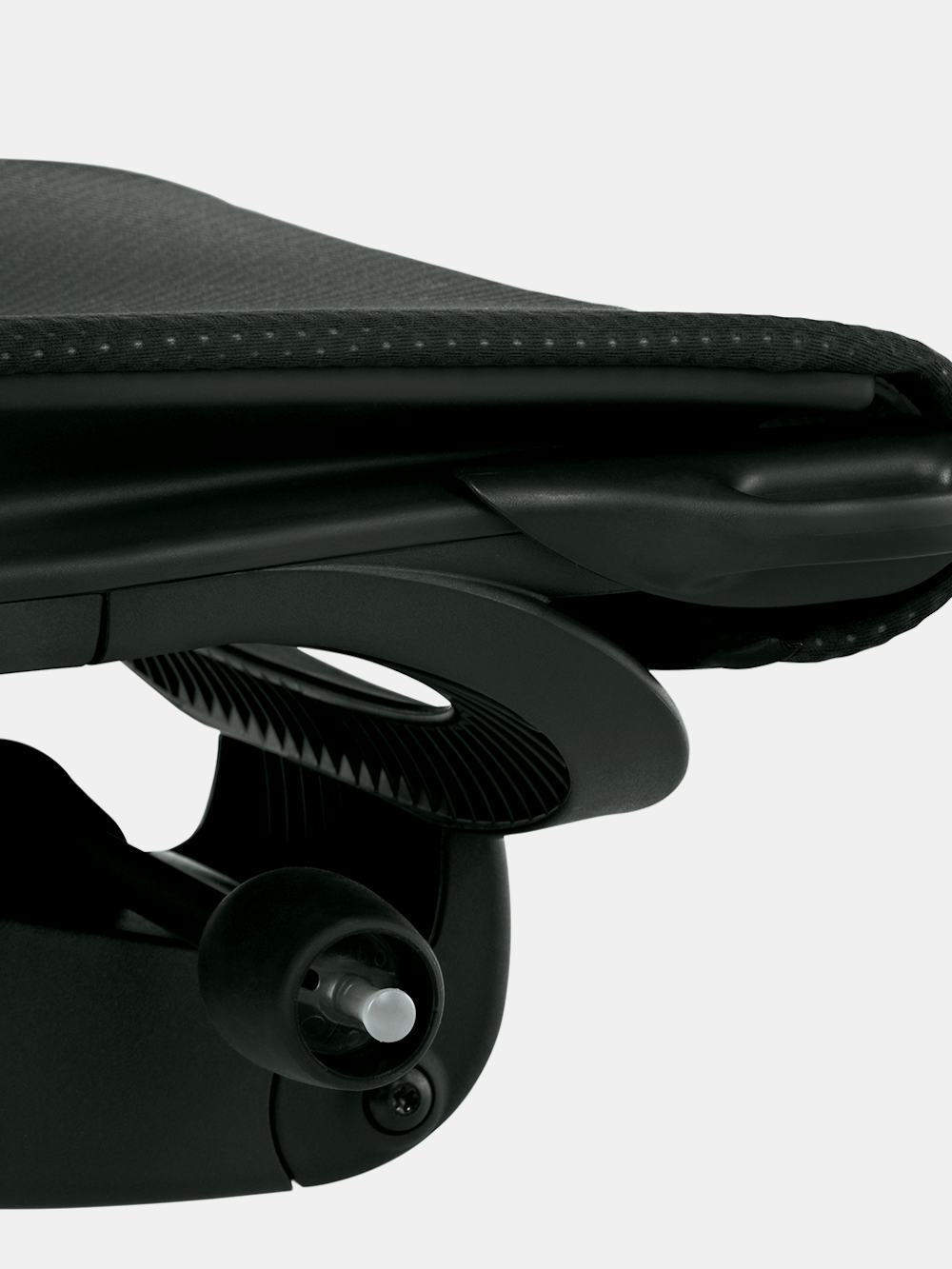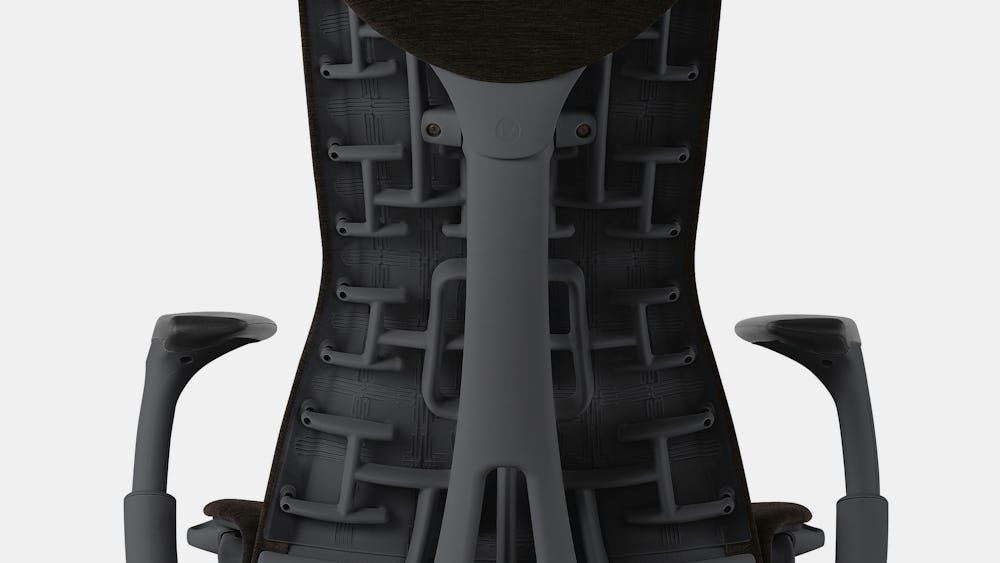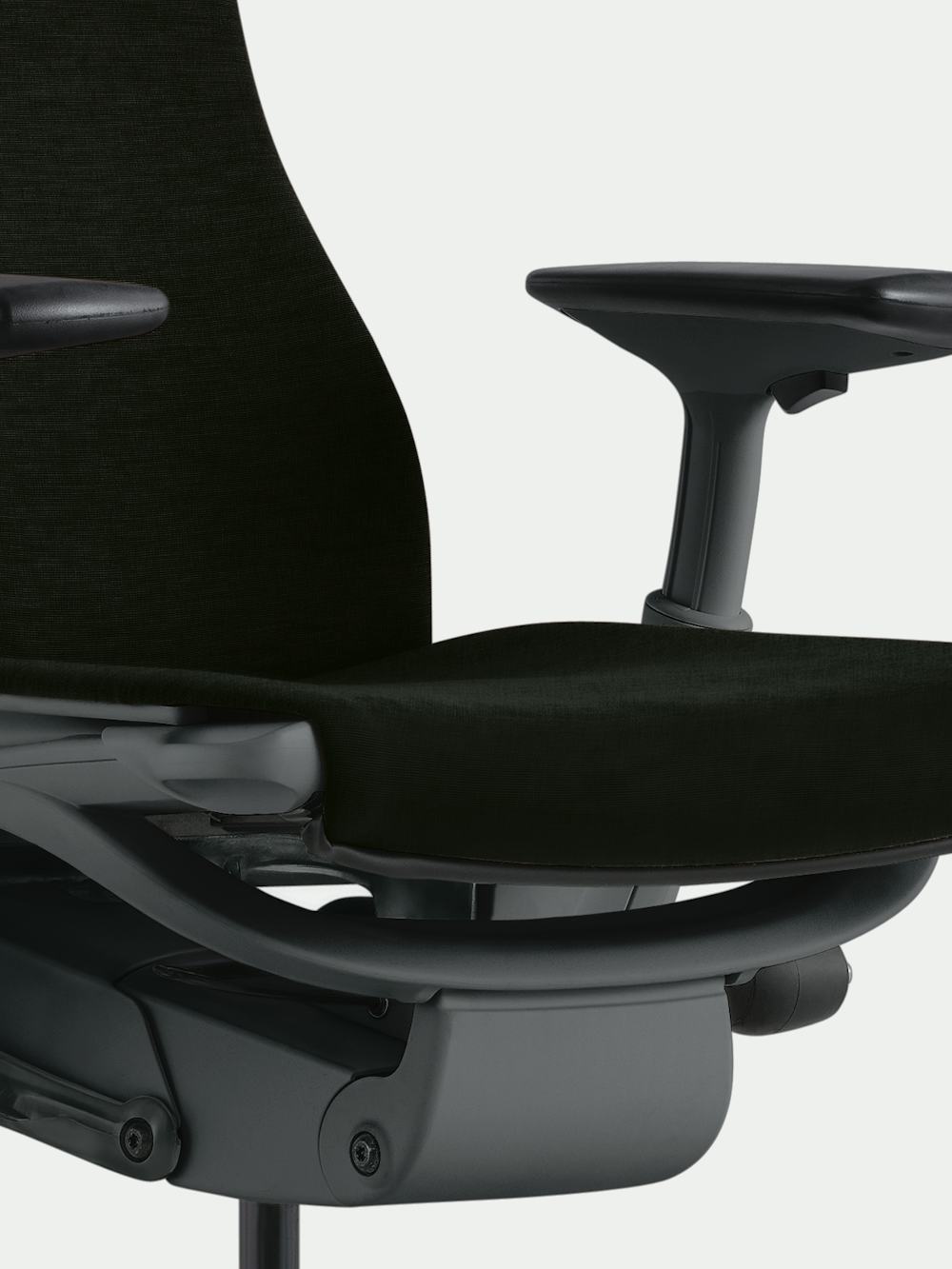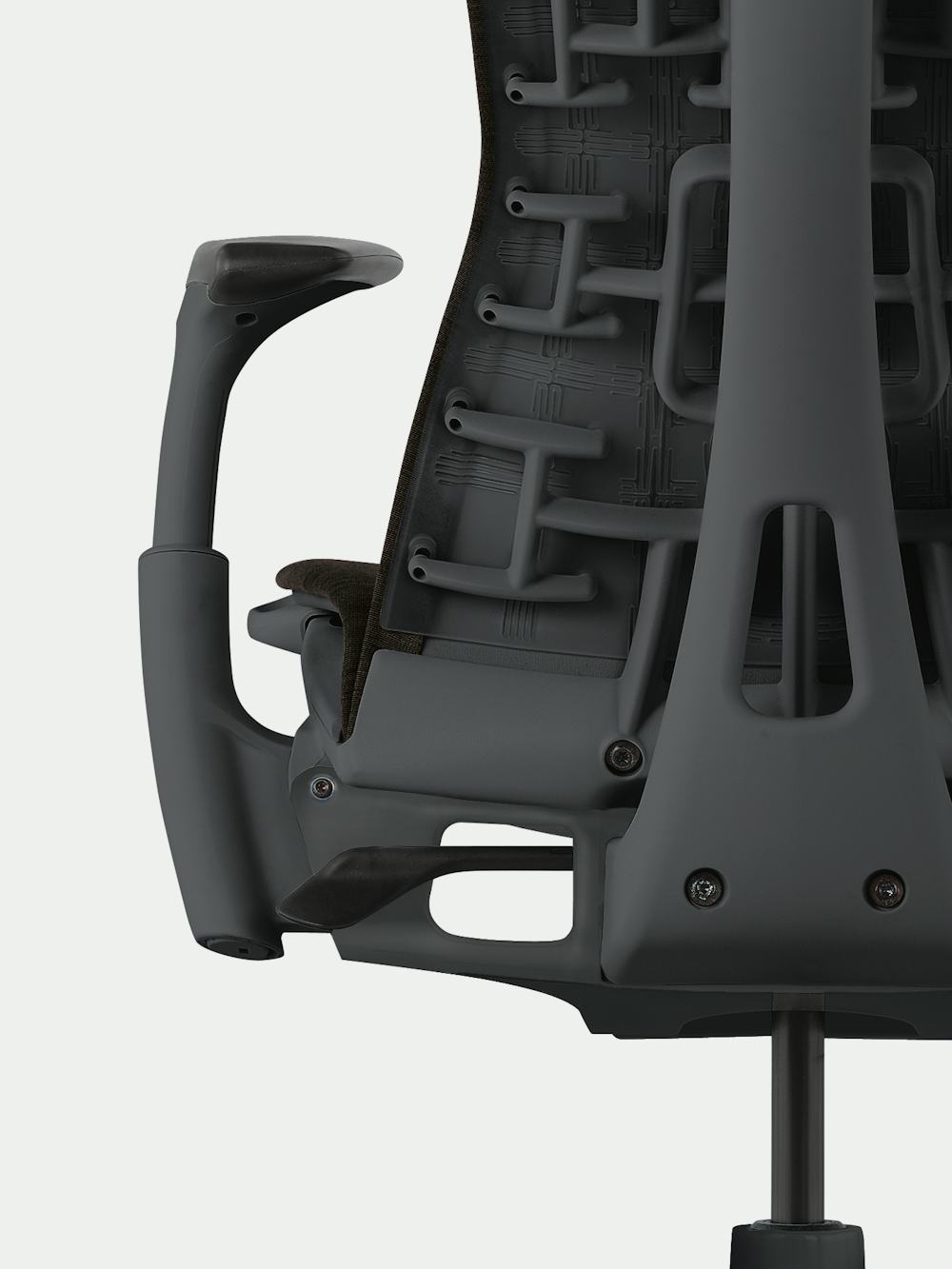 Color