It's a famous Indian appetizer where pieces of paneer (Indian cottages cheese) and marinated with yogurt and spices and then grilled until charred.
Onion, bell peppers and tomatoes are also added to the marination along with paneer.
Once cooked, it's served with cilantro mint chutney, onion slices and lemon wedges.
Cubes of paneer, onion and bell peppers are marinated with spices and yogurt and then roasted in the oven to perfection.
Traditionally paneer tikka is grilled in a tandoor but you get the same amazing taste by broiling in the oven too!
This paneer tikka marinade has
✓ Greek yogurt
✓ Spices like chaat masala, coriander powder, red chili powder
✓ Mustard oil, for that unique flavor
✓ Cilantro & mint, for freshness and taste
✓ Lemon juice for tanginess
Making Paneer Tikka In the Oven
For this recipe, I have cooked the tikka in the oven. Now when you cook the paneer in the oven, it might get rubbery and chewy.
So how do you avoid that?
First thing, spray the tikka with oil before putting it in the oven.
Second, since paneer is cheese it doesn't need to be cooked for a long time. If you plan to eat the paneer tikka immediately they you can cook it for more time.
But say you are making it for a party, you would need the pieces to remain soft even after they have cooled down, so make sure to not over-cook in the oven.
Here's what I suggest!
Bake at 450 F degrees for 10 minutes and then turn on the broil. Broil for 2 to 3 minutes until paneer pieces look charred.
If you want paneer even more softer- bake at 450 F degrees for 5 minutes and broil for 3 to 4 minutes.
Making Paneer Tikka on Stove-Top
Can you make this on stove-top if you neither have a grill not an oven.
Yes, you can make the tikka on stove top.
A grill pan will work best but if you don't have that a simple pan or tawa will also work. Line all the paneer pieces with onion and peppers in a skewer and then place on the pan.
Remember to spray the pan with a oil spray first.
Cook from both sides until it's golden brown in color. It would still taste good!
Always remember to serve the tikka with a sprinkle of chaat masala and side of cilantro chutney. There's no other way to eat it!
Method
1- Whisk the yogurt in a large bowl until smooth. I have used greek yogurt here, you can use regular yogurt just make sure to strain it for several hours until you have thick yogurt left and then use in the recipe.
2- Add all the ingredients for marinade to the yogurt- ginger garlic paste, mustard oil, coriander powder, chaat masala, kashmiri red chili powder, garam masala, red chili powder, kasuri methi and salt.
3- Whisk to combine everything together.
4- Add in juice of 1 lemon along with chopped cilantro and mint. Mix well.
5- Stir in the paneer cubes, onion and bell peppers.
6- Mix until all the paneer pieces and veggies are well coated with the marinade. Cover the bowl and refrigerate for minimum for 1 hour or up to 4 hours. Overnight also works!
7- After 1-2 hours, take the marinated paneer and veggies out of the refrigerator. Take a skewer and arrange paneer, onion and peppers on a skewer, alternating with each other.
Make all skewers similarly. Meanwhile pre-heat oven to 450 F degrees. Make sure you pre-heat the oven for good 15-20 minutes.
8- Arrange all the prepared skewers on a baking sheet lined with parchment paper. Spray the tikka with a oil spray. This is important so that the veggies don't dry out.
Bake at 450 F degrees for 10 minutes and then turn on the broil. Broil for 2 to 3 minutes until paneer pieces look little charred.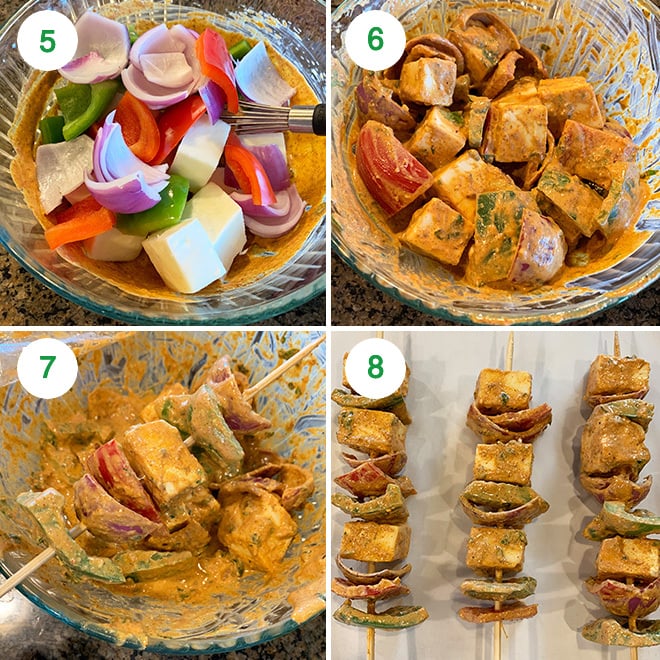 Remove from oven, squeeze lemon juice, sprinkle chaat masala and serve with cilantro chutney.
If you want the paneer to be even softer, bake at 450 F degrees for 5 minutes and then broil for 3 to 4 minutes. Don't overcook the paneer else it will gets really tough and chewy, you want it soft.
Sources: