Ingredients
1 pound winter melon , remove the skin and cut into cubes
2 large ribs cut into sections
3-4 red dates
1 teaspoon dried shrimp
Green onion , chopped for garnishing
Coriander , chopped for garnishing
1 thumb ginger , smashed
pinch of salt as needed
Instructions
Place ribs in clean water, bring to boil and continue cooking for 1-2 minutes. Transfer out and rinse under running water.
Cut the rind of winter melon and then cut into large chunks.
Place red dates, dried shrimp, smashed ginger, ribs and winter melon with enough water in high pressure cooker; cook for 15 minutes after boiling. Or you can use a stew pot or slow cooker; cook until the ribs and winter melon are soft.
Add salt before serving
Place some chopped green onion and coriander at bottom. And scoop the soup to serving bowl.
Recipe Notes
Adding chopped green onion and coriander directly to the large pot of soup is not recommended, as they are easy to overcook and spoil the freshness.
Winter melon needs to be matched with meat, bones or ham. There are several options:
Winter melon soup with fresh meatballs
Winter melon soup with ham, black mushrooms and dried shrimp
Prepare the ingredients
Winter melon
Winter melon is available in different sizes. Some winter melons are gigantic and sold in precut portions in supermarkets.
The skin is not edible. Cut off the skin with a knife or vegetable peeler. Remove the pith and cut the winter melon into small cubes or one cm thick slices. 
Winter melon does not have an overpowering taste, but it has a beautiful texture and absorbs any flavor like a sponge. 
Goji berries and red dates
Goji berries red dates have a subtle flavor, which is matches ideally with winter melons and some other Chinese herbal soups. 
Rinse the goji berries and dried red dates with water to remove any dirt and sand. Cut the red dates to half and remove the seed. It helps to release the flavor while boiling. The red dates should be added at the beginning of cooking to extract its flavor fully, while the goji berries can be added later due to its small size. 
Dried shiitake mushrooms
Soak the dried shiitake mushrooms in water until it is fully hydrated. You can use hot water to speed things up. 
Once the mushrooms are soft, remove the stem and cut the mushrooms into small dices.
Few winter melon soup recipes include dried shiitake mushrooms. However, this is how my mother prepared it when I was young, which is our family recipe.
Do not throw away the water after soaking the mushroom. It acts as a mushroom stock, which should be added to the soup to intensify the flavor. Pour only the top portion as it may have some sand and dirt which sink to the bottom. 
Dried shrimps
Soak the dried shrimps in water until rehydrated. Discard the water and remove any shell that may still attach to the dried shrimps. 
Toast the dried shrimps with a small pan until it smells fragrance. Now it is ready to add to the soup base.
Ginger
Ginger is often used in Chinese soup to add some flavor, and two to three slices are enough. It plays a secondary role and shall not overpower the taste of other ingredients. 
Pork (or chicken) meat
Our family recipe includes some small dices of pork, which are marinated with salt, light soy sauce, and cornstarch. My mother likes to add all the salt required for the soup to the pork. This idea is fantastic because the pork will still be well seasoned after boiling in the soup.
I am using chicken breast meat to substitute pork in this recipe. Chicken has a universal meat flavor, which is an excellent alternative to pork.
There are options apart from adding the minced meat. For example, you can form some meatballs with minced meat (use more cornflour and reduce the salt in the recipe) or adding some meaty pork ribs. These are all popular ways to make the winter melon soup. There aren't any standard rules on how to prepare it.
What if I do not have all the ingredients?
My mother would cook with whatever ingredients she found in the kitchen. In the simplest form, the soup only required three components – winter melon, minced meat, and dried shiitake mushrooms, seasoned with salt and pepper. 
Make the soup base from scratch
A superior soup base is the foundation of an excellent winter melon soup. You can boil the chicken bone, chicken feet, or chicken carcass to prepare the soup base. Another popular method is to include pork ribs into the recipe.
Prepare a pot of boiling water. Then put the chicken or pork into the water.
Let it boil for 3 to 5 minutes and then removed. The goal is to remove any blood and debris. This step is a crucial step to produce clean and clear soup.
Clean it under running water or in a pot of cold water.
Bring a separate pot of water to a boil. Lay the chicken bones or pork ribs in it over medium heat to extract the flavor.
Skim off any scum floating on top from time to time.
Boil for half to one hour. The actual time required depends on the size of the bone.
If you are using bones, pour the stock through a wire mesh strainer to remove the bone and debris, then add the remaining ingredients into the clean stock. If you are using meaty pork ribs, there's no need to pass through the strainer. Add the remaining ingredients directly into the pot of pork ribs.
Other Recipes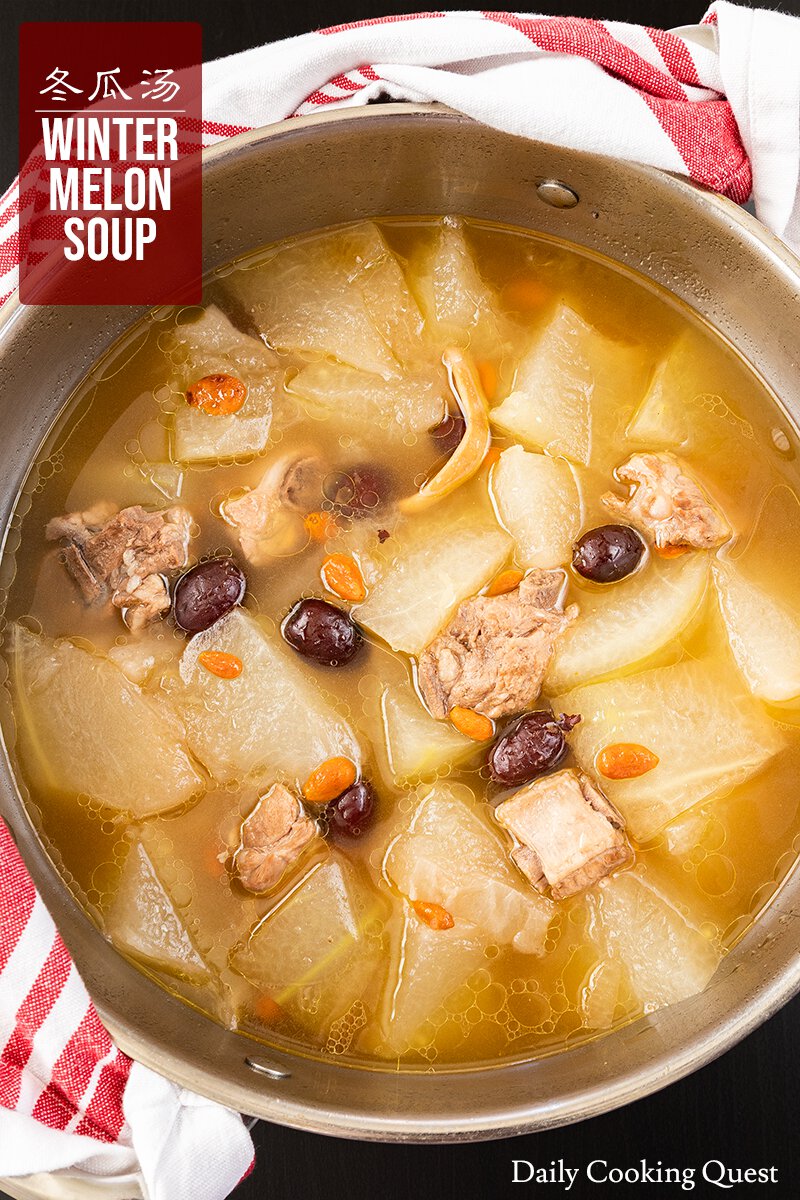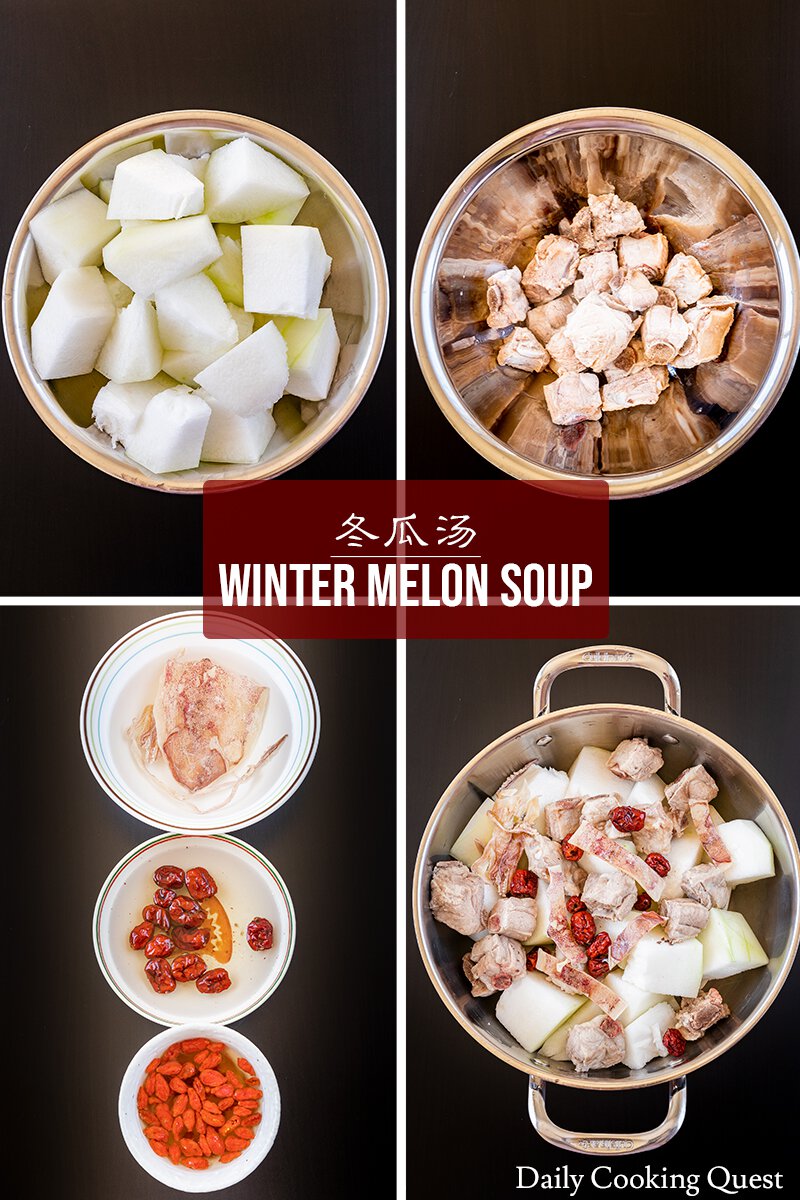 https://dailycookingquest.com/winter-melon-soup.html